Clay Natural Depositions In The Nigerian States And Its Uses
Clay Mineral Deposits in Nigeria - Africa is endowed with clay-rich countries and clay is gotten from the majority of the states in Nigeria and is deposited in most of the states in larger quantities, the states include; Abuja (FCT) Akwa Ibom, Anambra State, Bauchi, Benue, Borno, Cross River, Delta, Edo, Lagos, Nasarawa, Ogun, Ondo, Oyo, and Sokoto.
Clay has a long history of existence if not the oldest; it has also been termed the oldest building material on Earth. It is not a new natural resource in Nigeria and Africa as a whole as it was used in ancient times in the building of huts and even in modern-day Nigeria, some of these structures are still visibly seen not only in the building of houses but also in other homewares such as plates and water pots.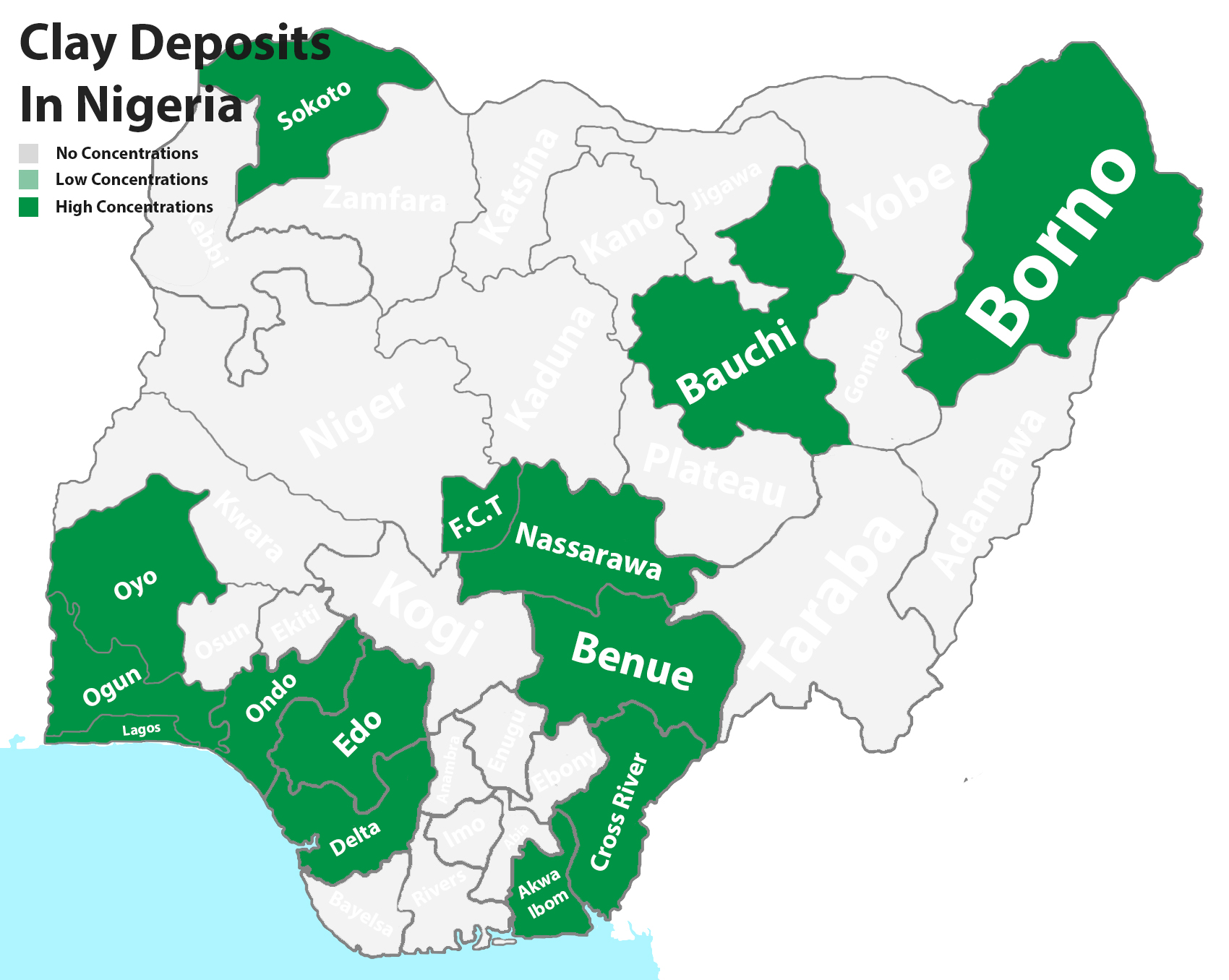 Clay Mining in Nigeria
Even though clay can be commercially mined in West African countries like Nigeria by companies through a clay pit, it is mainly dug locally from its sources by Nigerians. This is because its deposits are eventually scattered across various areas and don't require any special instrument for detecting it except for the mining companies which might require a larger deposit of the mineral.
Physical properties of clay
Clay is a type of soil or natural rock with fine grain particles. It is non-porous due to its closely parked particle and these make it retain water.
The water content in clays makes it have a plastic nature and become brittle, hard, and non–plastic upon firing giving it a permanent physical and chemical change.
Colors of clay
Clay has different colors depending on the content of the soil in which it was found, the color ranges from white to dull grey or brown to deep orange-red.
Common features of clay deposits
Clay deposits have some amounts of water that are trapped in the mineral structure, such as mineral-like phyllosilicate which clay is mostly composed of. Clay deposits consist of the primary and secondary stages; while the primary clays are formed as a residual deposit in soil and trapped at the site of formation, the Secondary clays rather have been transported by water erosion from their original location and deposited in a new sedimentary deposit.
Clay deposits can be found in large lakes and marine basins because of their extremely low energy sedimentary environment.
Formation of clay
The formation of clay takes a long period of time which is a result of what is known as the chemical weathering of rocks. This occurs gradually, usually the silicate-bearing ones, by low concentrations of diluted solvents like carbonic acid. The acidic solvent leaches the upper weathered layers and then moves through the weathering rock. It is in this process of hydrothermal activity that some clay minerals are formed.
For the industrial processing or manufacturing of clay,
Two processes are used which are;
(1) Dry process
(2) Wet or slurry process
In the manufacturing of clay using any of these processes, it generally undergoes extraction, blending, crushing, and drying phases with specific machinery for each function or phase.
Clay Milling and Grinding Equipment
Large scale clay producers need some heavy-duty equipment for easy mining, extraction, and processing, which include:
Portable clay grinding machines: Clay mining crushing plant used for power-grinding and crushing clay from the mining site.
Clay mill hammer crusher machine: Designed for extremely heavy-duty use basically for clay crushing and milling.
Uses of Clay
Clay is used in pottery making. Clay contributes to our existence because they are used to cultivate plants. Used in products construction like bricks, walls, and floor tiles.
Clay when subjected to firing in combination with different minerals produces earthenware, stoneware, and porcelain.
There are clays such as Bentonite Clay and others that are believed to have healing powers and are used in many health and cosmetic products.
Clay is also used in the production of paint.
Groups of clay minerals
Clay minerals have three basic groups namely;
Montmorillonites or smectites
Illite
Kaolinite
Montmorillonites or smectites
This is a group of clay that has feeble linkage by cations like Ca++ brought about by great inflammation potential. Montmorillonite is oftentimes regarded as swelling clay because of the fact that it expands and swells in contact with water.
The rock can also be molded by the modification of mafic igneous rocks fortified in Ca and Mg. montmorillonites or smectites clay group include vermiculite and bentonite.
The variety of the bonding of this group of rocks is a result of 2 sheets of tetrahedral.
Smectites or montmorillonite are gotten from the surviving remains of volcanic ash and that is why it is known to be the major component of bentonite.
When this kind of rock makes contact with water, it expands greatly.
Because of the fact that this kind of clay expands very much, it makes it a good mud for drilling.
Despite its importance in drilling, it is bad for road cuts or passageways. This is because it expands too well and can fail as time goes on.
The same way the clay swells when it comes in contact with water, it also shrinks when the water is dried from it. On drying, it cracks.
Illite
Illite is another group of clay that contains greenish clay sand usually called glauconite. They are the most known of all the all clay minerals. The formation of this kind of clay mineral is a result of decomposed feldspars and micas.
Therefore, illite is deep-sea clay. This kind of clay gets to the sea through the wind or most times, they are transported through rivers. If not that illite clays lack alkalies, they can be mistaken for muscovite. This is because they have very similar structures. The main elements of illites are Shales.
Kaolinite
Kaolinite is a kind of clay formed by the decay of orthoclase feldspar the kind of feldspar present in granite. It usually comprises dickite and nacrite. In China, kaolinite is the major kind of clay that they use.
Thus, this kind of clay is widely used in the production of ceramics worldwide. The texture of kaolinite is fine and this makes it easy for molding. Also when it is fired, it turns white. Another usage of this kind of clay is in the paper-making industry as they are used in filling papers.
Among the three kinds of clay, this kind is the finest and cleanest, and the most widely used. It does not stretch as much when it gets absorbed in water like illite.
History of clay
The use of clay dates back to the Stone Age when the clay is used in all sorts of things including the building of houses for shelter to the cultivation of crops and more. Tracing the history of clay is as difficult as tracing the history of life.
It is however important to note the important scientist that promoted the use of clay to date.
D M C MacEwan was the scientist that propounded a theory for the analysis of various layers of mineral and generally how to identify smectites.
Also, V C Farmer worked on the identification of clay minerals by inventing the use of ultraviolet spectroscopy. His invention helps in identifying how the mineral interrelates with biological composites.
Geochemistry of today sees its light because it was founded by V M Goldschmidt. G F Walker on the other hand developed methods of identifying vermiculite. Additionally, when it comes to the updraft analysis of clay minerals, R C Mackenzie is known as the global expert in the subject.
Prices of clay across the globe
Common clay as of 2019 was per ton at $17 US dollars. Its naira equivalent is N6579.94 NGN. These prices obviously change according to the daily market.
Importers and exporters of clay
As of 2018, clay ranks the 699th in the world's greatest traded goods, as it makes an aggregate trade of $2.29 Billion.
Below is the list of world's top exporters and importers of clay in 2018;
The top exporters of clay include;
United States ($415M) 18.1%,
Ukraine ($294M) 12.9%,
China ($280M) 12.2%,
Germany ($176M) 7.67%, and India ($105M) 4.58%.
Top exporters of clay include;
Germany ($196M) 8.5%,
Italy ($178M) 7.78%,
Spain ($148M) 6.45%,
Netherlands ($136M) 5.96%, and Poland ($104M) 4.55%.
Conclusion
Clay is one of the oldest building materials known in the whole world. Even in the modern age, most houses are still built with clays.
Apart from its usage in buildings, it is used for many other purposes and this makes it one of the commonly traded minerals in the world.
Related Information: