Limestone Deposits In Nigeria, Its Uses, And Locations

Limestone deposit in Nigeria is majorly deposited in Cross River and Ebonyi states but can still be found in a commercial deposits in Abia, Akwa Ibom, Anambra, Bauchi, Bayelsa, Benue, Borno, Edo, Enugu, Imo, Ogun, Ondo, and Sokoto, making Nigeria the most richly deposited West African country when it comes to Limestone.
This is one of the mineral deposits in Nigeria that is of great proportion but it is not renewable, and unlike some of these minerals, limestone is processed and quarried by various local and international construction companies in Nigeria.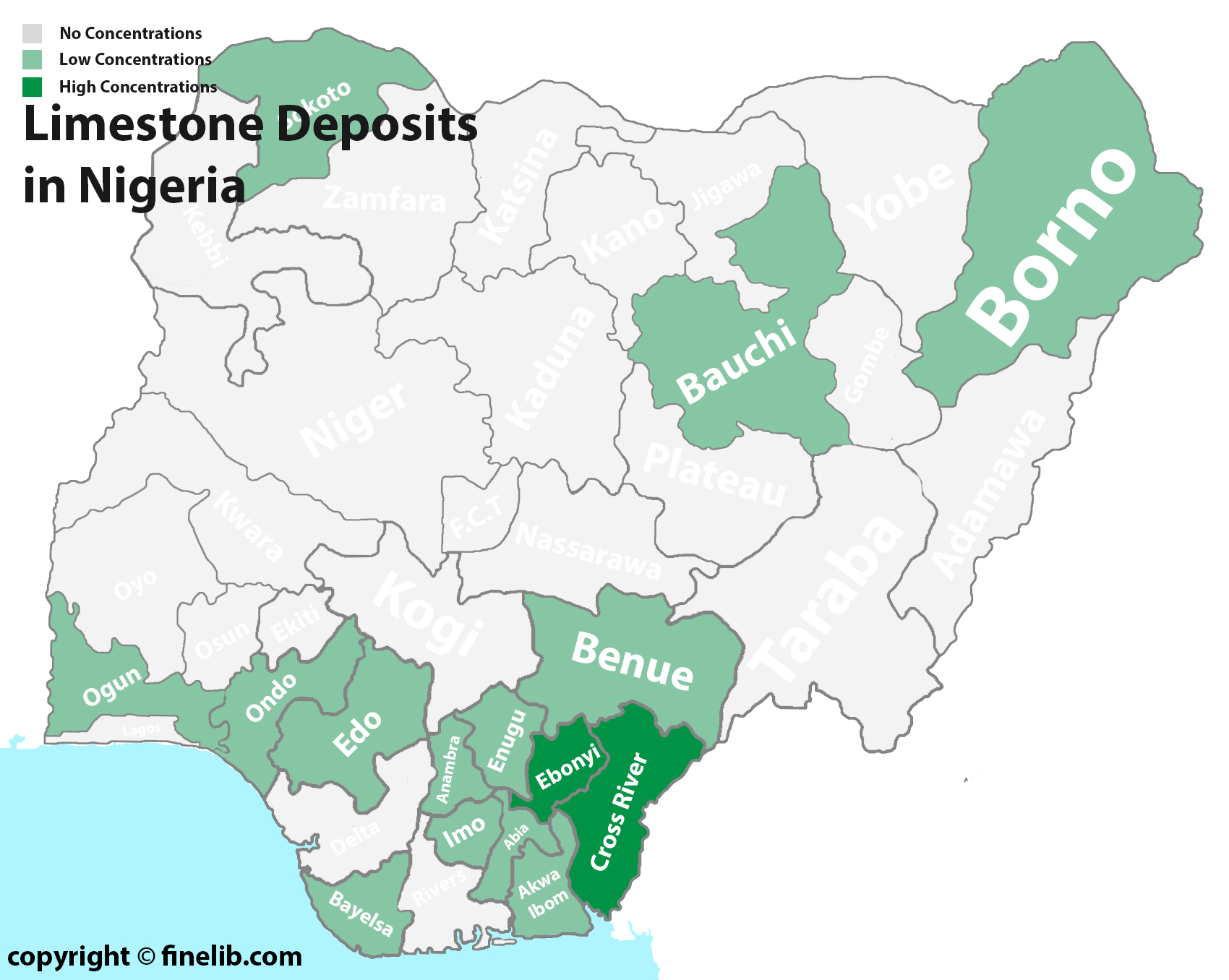 Quarrying of limestone in Nigeria
Some limestone quarrying companies include but are not limited to Rich Quarries Nigeria Limited, Crushed Rock Industries, and Stonehill Nigeria Limited, as there are more than hundreds of quarrying companies in Nigeria located in the various states where it is deposited in.
Limestone quarrying is of great benefit as it can be used in various applications but it also has its own disadvantages.
The blasting and quarrying of limestone or other forms of sedimentary rocks in Nigeria or other parts of Africa and the world can seriously lead to a permanent disfiguration of the environment, noise pollution and disturbance from the blasting, and maybe in severe cases can even lead to earthquake due to continues shaking of the earth-crust.
Some Limestone Mining/Exploration Operators in Nigeria
. Amstrade Ventures Limited
. Blontel Limited
. Dangotte Limited

. Gamla Nigeria Limited
. Africem Quarries Limited
. ENL Consortium Limited
. Josimog International Ventures Limited
. Xath Resources Limited
. Gatamitech Nigeria Limited
. Ibeto Cement Company Limited
. Julius Berger Nigeria Plc
. West African Portland Cement Plc
. Bua International Limited
. LafargeHolcim etc.
Prices of limestone in Nigeria market
In the local market, limestone is sold at N350 per 50kg bag. This price is negotiable and fluctuates depending on the potential buyers and available bidders.
In the foreign scene, $12 and $56 are the ranges of the prices of limestone coming from Nigeria.
Nigeria market shares in limestone
Exports
Nigeria ranks 86th in limestone market shares in global exports. They make $ 831.00 (-54.1%) yearly.
. Imports
Nigeria ranks 49th in limestone market shares in global exports. They make $ 450.09K (-51.0%) yearly.
Mining of limestone
The Mining of Limestone is an outdoor activity that involves the separating of the limestone rock in quarry benches and dividing it into blocks.
Limestone Mining Machinery
Stripping and drilling machines Are the machinery used quarrying limestone to remove the material between the surface and the minerals or the materials to be extracted.
Wheel loaders: Hydraulic quarrying machinery that is used to load dirt while extracting limestone.
Off-Highway trucks or rock trucks: Used for hauling extracted materials and dirt moved to the materials to be extracted.
Crushing machines: Utilizes vibrators, an elaborate system of jaws, and fixed steel plates to crush mined materials into the finished products.
Limestone has numerous uses:
As a building material (major constituent in cement production).
· Used as a crushed stone for railroad ballast and road base.
· It is used in glass manufacturing.
· Used as a filler in paints, toothpaste, and other products.
· In the production of lime, it is used as a chemical feedstock.
· It is also used in blast furnaces for iron purification.
· Limestone together with quicklime and slaked lime are all used to neutralize excess acidity.
. Limestone is also used as a dimension stone whereby the stone is cut into chunks and blocks in constructing floor tiles, window sills, and more.
. It can also be crushed and used as a coating for heat-resistant roofing.
Physical properties of limestone
Limestone is a sedimentary rock with a large composition of minerals primarily of calcium carbonate (CaCO3) in the crystal forms of calcite and aragonite.
Most limestone is mainly composed of some significant parts of marine organisms which can include forams, molluscs, and corals.
All sedimentary rocks contain about 10% - 15% of limestone deposits which are formed from the accumulation of shell, coral, algal, and fecal debris most commonly situated in clear, warm, and shallow marine waters.
It is soluble in water solutions and leads to a karst landscape which is mostly characterized by underground drainage systems with sinkholes and caves (most cave systems are through limestone bedrock).
A brief overview of the worldwide market for limestone
It is expected that over the next five years, the worldwide market for Limestone will grow at a CAGR of roughly 2.8% from the 60600 million USD in 2019 to 71500 million USD in 2024.
The key players in the limestone market worldwide include;
. The Middle East and Africa (Saudi Arabia, UAE, Egypt, Nigeria, and South Africa)
. Asia-Pacific (China, Japan, Korea, India, Australia, Indonesia, Thailand, Philippines, Malaysia, and Vietnam)
. Europe (Germany, UK, France, Italy, Russia and Turkey, etc.)
. South America (Brazil, Argentina, Columbia, etc.)
. North America (the United States, Canada, and Mexico)
Which countries are the top importers of limestone?
The top importers of limestone include;
India ($303M),
Indonesia ($78M),
Bangladesh ($39.6M),
South Korea ($37.8M) and
Japan ($36.3M)
The leading limestone producing countries
The leading limestone producing countries
worldwide include;
China (300 million metric tons),
. The United States (18 million metric tons), and
. India (16 million metric tons).
Kinds of limestone
There are quite several types, varieties, or kinds of limestone, some of which are;
Tufa
Tufa is a common type of limestone known to form near hot lagoons or springs with the water having a high rate of calcium carbonate.
Coquina
Coquina is another type of limestone found in beaches formed from fragments of broken shells.
The wave actions of the beaches gather fragments of shells of different sizes to make a coquina limestone.
Lithographic limestone
Lithographic limestone has a very uniform size of grain usually in beds. One interesting thing is that the beds can easily separate.
The limestone took its name from the 1700s printing process called 'lithography'.
In this process, images are produced by drawing such on a stone and afterward, the drawing on the stone is pressed as many times as possible to produce many other copies.
Travertine
Travertine is a type of limestone formed as a result of the drizzle melting away and forming pillars, flowstone and spikes. Travertine limestone usually forms in a cave.
This kind of limestone is used in remodeling homes as it can be used in making vanity, countertops, backsplash, and so on.
Chalk
Chalk is a common type of limestone usually white in color. Chalk is formed from the residues (usually the shell) of little aquatic organisms.
Chalk is often soft and has a fine texture basically as a result of its mode of formation. Apart from the white color of chalk, most others have grey color.
Oolitic limestone
This type of limestone is formed from calcium carbonate oolites. Calcium carbonate oolites are concentric layers of tiny grains.
Fossiliferous Limestone
This is a type of limestone containing fossils of the aquatic organisms which come together to form a fine stone called fossiliferous limestone.
The fossils in question usually include skeletons or shells of such organisms.
Discovery and history of limestone
For a time, limestone has been used in many industrial production and building alike.
It was dated from ancient Egypt till the modern-day where almost everybody uses this precious stone.
In 7000 BCE, Yifta El in Isreal used lime to produce a lime mortar floor. He produced the flooring by heating the limestone hardly and afterward, he satiated the product.
In 2560 BCE, the great pyramid of Giza was built. They got the limestone used in building pyramids and templates from the River Nile of Egypt.
They quarried the limestone and used it in making blocks that were supplied as building materials.
The great Giza pyramid was built with 2.3 million limestone blocks and afterward, other pyramids were built with limestone in the same complex.
Afterward, in 300 BCE, the Romans decided to advance the usual method of producing limestone.
They introduced lime mortar. Their technology involves mixing volcanic ash with slaked lime.
This mixture produces cement that can last and harden for quite a long time.
Subsequently, in 10 CE, the 350 road networks that connected the provinces of the Roman Empire were constructed with lime cement.
The lime cement was used to fill and hold the block the user in constructing the road.
During the dark ages in 476 CE, which was the period known to be the end of the Roman Empire, there was a record of reduced usage of limestone for general construction.
As at the period when there was a request from Henry III in 1240, to whiten both sides of the great tower of London, lime was used to do the job.
They used a slaked mixture of lime to paint the already existing stonework, giving it a lively white look.
Around 1368 to 1644, at the time of the Ming Dynasty, there was a request for the restoration of the Great Wall of China.
The work was perfectly carried out by using mortar of lime to work as cement on the already existing stonework.
During the 16th century, people started using lime for agricultural fertilizer and it recorded quite good success.
In the year 1824, Joseph Aspdin invented Portland cement. The cement is called Portland cement because it has the same look as the Portland stone.
It is gotten by blending clay, limestone, and other minerals in a calcined manner and then grounding them to powder.
From 1980 to 1990, limestone began to be in use in the paper manufacturing industry.
The paper industry started using PCC as raw material and the PCC is majorly produced from limestone.
In the recent world which is the 21st century, the construction and building industry all sing the praises of limestone as it has helped them greatly.
It is recorded that presently, there is an annual worldwide consumption of 5000 million tons of limestone used in numerous industries
Conclusion
The regions in Nigeria with the largest limestone deposit include middle belt regions and southeast regions.
The limestone business is more profitable when purchased from the miners.
Limestone is one of the rarest kinds of natural resources. Builders prefer to pay any price just to have their projects completed with limestone.
Related Information: