Information On Gemstones Types And Deposit States In Nigeria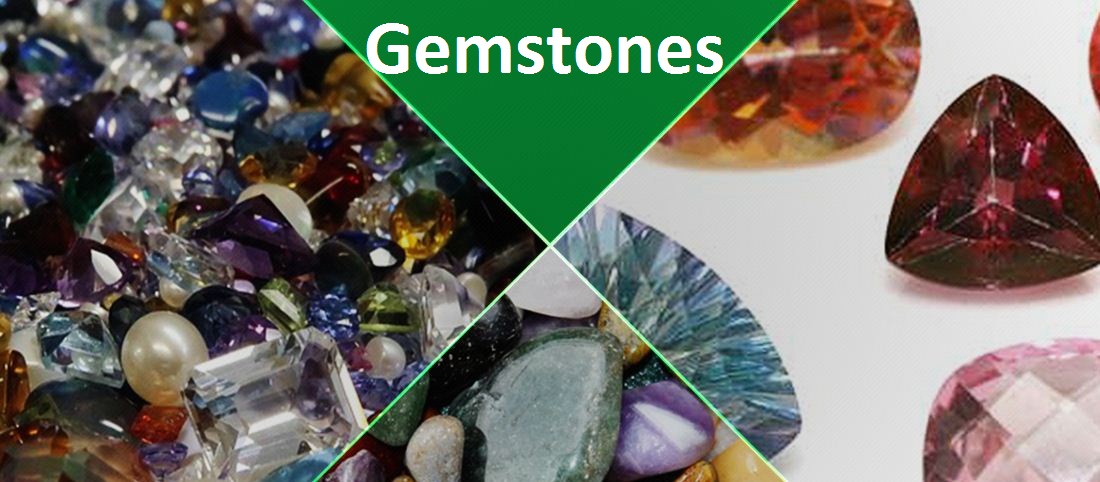 Nigeria, West Africa is not an exception when it comes to gemstones, the country is richly blessed with one of the world's most sought-after semi-precious and precious stones.
Paraiba tourmalines are the most common type of gemstone found in Nigeria particularly in Oyo state, other states with these deposits include Benue, Kaduna, Ondo, Kano, Nasarawa, Ogun, Bauchi, and the Plateau States.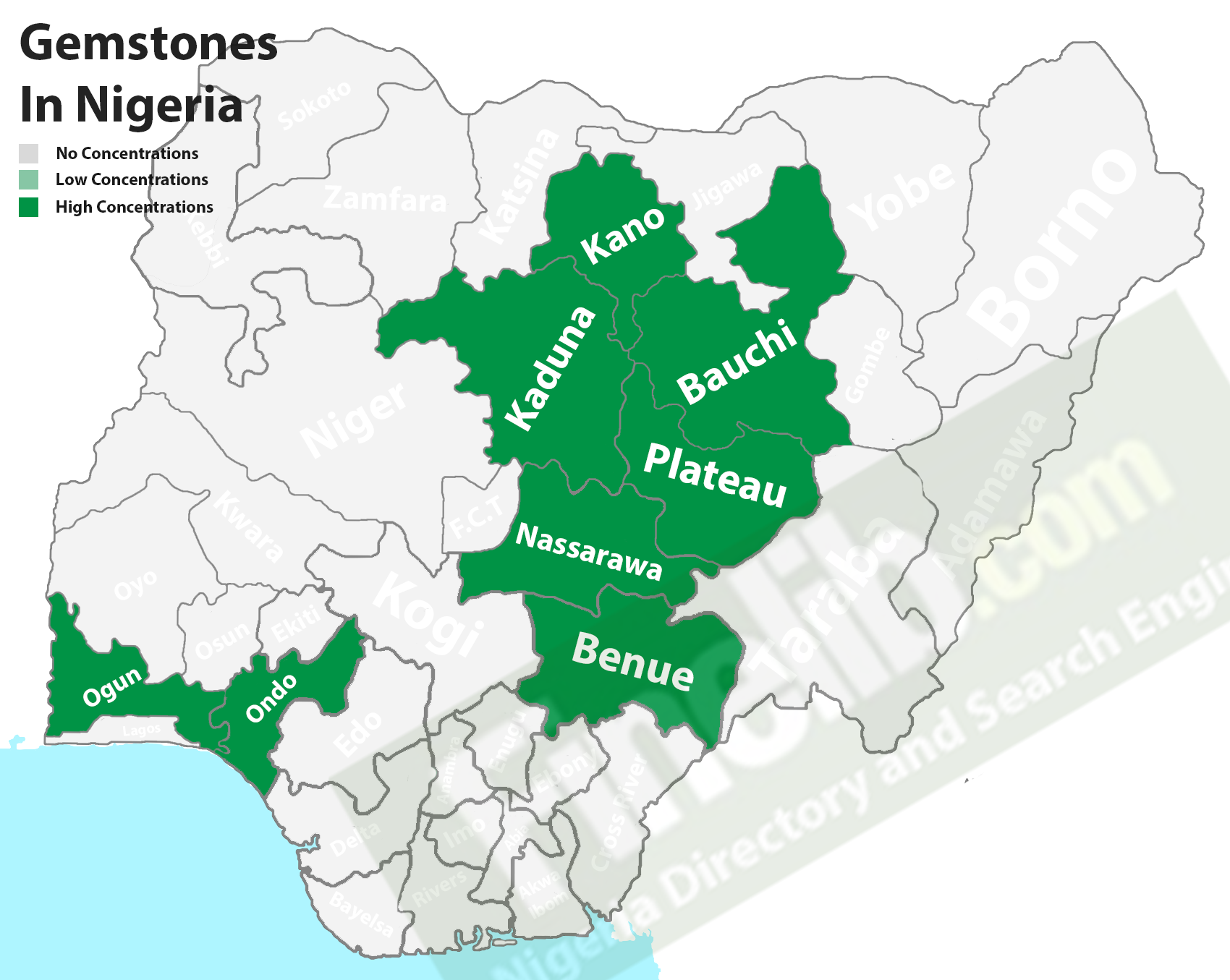 Properties of gemstones
Gemstones are precious or semi-precious stones. It is a piece of mineral crystal and is of various kinds, colors,s, and grades.
Examples of gemstones are turquoise, emerald, diamond, labradorite, Kyanite, sapphire, ruby, aquamarine, topaz, garnet, amethyst, ammolite, benitoite, zircon, and many more.
There are certain rocks like lapis lazuli that are not minerals like amber but are all considered to be gemstones and can still be used for jewelry.
Gemstones are generally hard and before use especially for jewelry that is cut and polished, but no matter what it is used for, gemstones are always admired and valued because of their rare characteristics.
Most popular kinds of gemstones in Nigeria
Nigeria has a large deposit of minerals and precious stones. These gemstones are deposited in many states of the country.
Some states have larger deposits of some of these gemstones while other states have very little quantity.
The most popular of all the gemstones is the Paraiba tourmaline. This gemstone is deposited at Ogun, Kano, Oyo, Nasarawa, Ondo, and Kaduna states.
The types of gemstones popularly found in Nigeria include;
Tourmaline
As stated earlier, tourmaline leads in the list of most popular types of gemstones in Nigeria.
This is because it is found in abundance, comes in many colors and it is readily available for buyers.
The colors of tourmaline include blue, white, green, pink, watermelon, red and lots more.
Tourmaline can be found in many locations in many states like in Oro, Lemo, Ora and Ndeji all in Kwara State.
Also, they can be found in Saura, Gidan Kadiri, Keffi, Garaku, Anngwan Mayo, Anngwan Lele, Anngwan Doka, Anngwan Tudu etc, all in Nasarawa State.
Certain regions such as Itasa, Komu, Budo Are, Idoko, and more in Oyo State have tourmaline deposits.
When it comes to Kaduna State, tourmaline can be found in places like Gidan Waya, Kagarko, and lots more.
Other states with tourmaline deposits include Osun State, Kogi state, Bauchi state, and Taraba states among others.
Sapphire
Sapphire ranks second in the list of most popular gemstones in Nigeria after tourmaline. Sapphire is a blue gemstone that is most valuable and costly.
In Nigeria, it comes in colors like pale green, rich blue, colorless, indigo blue, and lots more.
The quality of Nigeria's sapphire is of a high grade and a gram of the unpolished sapphire in the international market is worth about $10,000 US dollars.
This gemstone can be in Nigeria in the following places; Bogoro in Bauchi State; Mambila Plateau in Taraba State; Gunda in Yobe State; Antah, Nisama, Gidan waya in Kaduna State, and Bokkos in Plateau State.
Aquamarine
Aquamarine is another widely known gemstone in Nigeria. It is sold in large quantities in the country.
It comes in varieties ranging from the mineral beryl green-blue to blue colors.
Aquamarine can be found in places in Nigeria like Isanlu and Okene in Kogi State; Akwanga; Igbo Ora, and Ijebu Igbo in Ogun State; Nasarawa; Ibadan in Oyo State; Jenta; Agwada and Igwo in Nasarawa State.
Emerald
Emerald is of the family of beryl minerals and it has a bright green color.
Emerald deposits are found in Nigerian states like Nasarawa Egon in Nasarawa State as well as at Gwantu in Kaduna State.
Garnet
Garnet is another gemstone found in Nigeria in large amounts. Garnet comes in many colors ranging from orange to brown.
In Nigeria, different varieties of garnet are mined such varieties include; spessartite garnet found in Komu in Oyo state. This variety comes in colors like orange, orange-brown, to deep red.
Another variety of garnets popular in Nigeria is the Rhodolite garnet found in the axis of Jos-Bauchi.
Another is green tsavorite garnet but this variety is usually confused to be tourmaline.
Zircon
Another gemstone common in Nigeria is Zircon.it comes in colors like yellow, white, brown, pink, white, or even in a colorless form.
Oftentimes, this gemstone can be confused with diamond because they share almost the same features.
Zircon deposits in Nigeria include kunzite zircon found in the mines of Komu, Oyo state. Other places include Jos, Plateau state, Nisama, and Antah in Kaduna state.
Topaz
Another attractive gemstone in Nigeria is topaz. It comes in colors ranging from white to blue.n oftentimes, it is used as a diamond substitute.
Topaz can be sourced in Oyo State; Akwanga and Jenta in Nasarawa State; Bauchi; and Jos in Plateau State.
Amethyst
Amethyst in Nigeria is of very high quality and usually has a purple color.
It is sourced in places like Nasawara, Bauchi, Oyo, Kano, Kaduna, and lots more.
Apart from these gemstones, other types of gemstones found in small quantities in Nigeria include; Kunzite, Ruby, Arget, Heliodort, Opal, Tanzanite, Goshenite, and Morganite.
Production of gemstones
Irrespective of gemstones being found in nature, they can also be produced as synthetic or simulated gemstones.
Synthetic gemstones
Synthetic gemstones are alike to natural stones in all appearances and chemical properties.
It is created in controlled conditions in the laboratory but still can't be regarded as an imitation.
Some of these gems such as emeralds, diamonds, and sapphires have been manufactured in labs to resemble the natural ones by making them possess similar chemical and physical characteristics.
Simulated gemstones
Simulated gemstones can be called imitations gemstones, as it is made of resins, plastic, and glass.
An example of these is cubic zirconia, a diamond simulant that is composed of both simulated moissanite and zirconium oxide.
Even though the imitation gemstone has the same look and color as the real stone, it does not possess either its chemical or physical characteristics.
Gemstones in Nigeria alone can sustain the country for years, but because of the distraction of crude oil, the places with gemstones deposits have been left to be mined illegally and unguided without minding the health and environmental impact of their action.
History of gemstones
Gemstones have been since over 25,000 years ago. In ancient times, they were called healing stones, crystals, healing crystals mood stones, and a host of other names.
However, different places have their own origin of gemstones. Some of these histories will be discussed here.
The Egyptians are known to import obsidian gemstones which they used in making weapons as well as jewelry around 4000 BC.
In China around 3600 BC, gemstones were used to make tools as well as jewelry. Chinese were known with Nephrite Jade.
Indians, Greece, Romans, Europeans, Africans, and a lot of other places in the world used gemstones for numerous purposes especially in healing and ornaments up till the 21st century.
Uses of Gemstones
Is widely used to make jewelry and ornaments.
Some gemstones are used as protective and healing stones.
Gemstones when well-crafted are used to calm weight.
Gemstones are also used for astrological purposes.
Gemstones are recently used for fashion purposes.
Prices of gemstones
As mentioned earlier, they are a wide range of gemstones available in the market.
However, the average prices of the most popular of these gemstones include;
Tanzanite—$1,200 per carat
Black Opal—$9,500 per carat
Red Beryl—$10,000 per carat
Musgravite—$35,000 per carat
Alexandrite—$70,000 per carat
Emerald—$305,000 per carat
Ruby—$1.18 million per carat
Pink Diamond—$1.19 million per carat
Jadeite—$3 million per carat
Blue Diamond—$3.93 million per carat
Buyers and countries buying gemstones
Top importers of gemstones in the year 2018 were
Hong Kong ($1.44B),
United States ($1.42B),
Switzerland ($911M),
India ($872M), and
France ($720M)
Top exporters of gemstones in the year 2018 were;
Hong Kong ($1.2B),
Thailand ($1.12B),
Switzerland ($843M),
United States ($691M), and
India ($608M).
Final words
One good thing about gemstones in Nigeria is that they are all not deposited in just a location in the country.
It can be found in many places and they come in very great quality.
What's more, they sell very high in the international market because of the value attached to them.
Related Information: