Galena (Pbs) Mineral Resources In Nigeria And Its Applications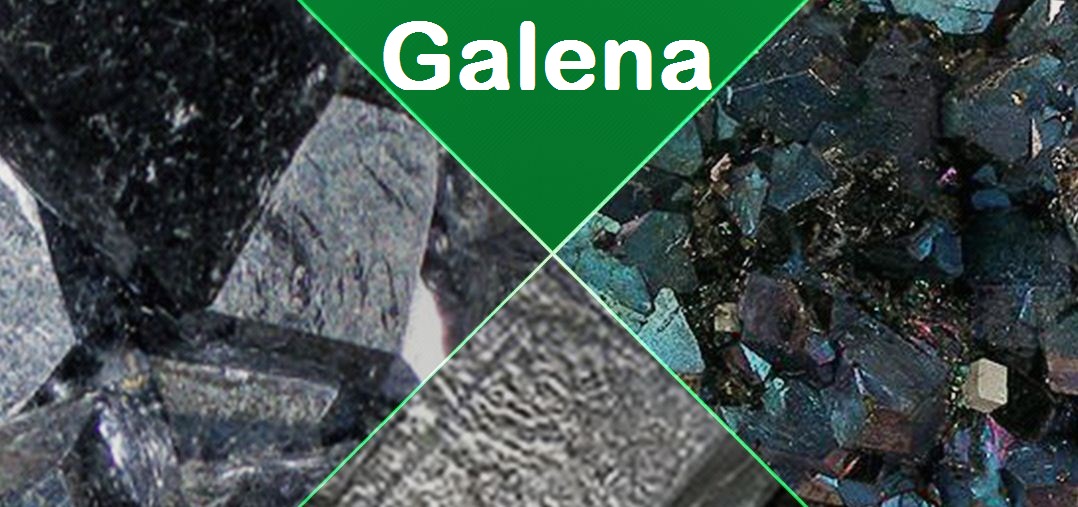 Galena is found in Nigeria, West Africa in large deposits mainly in Ishiagu, Ebonyi State, with an estimated reserve of 15 million tonnes, other states with these deposits include; Taraba, Kwara, Ogun, Kogi, Ekiti, and Nasarawa.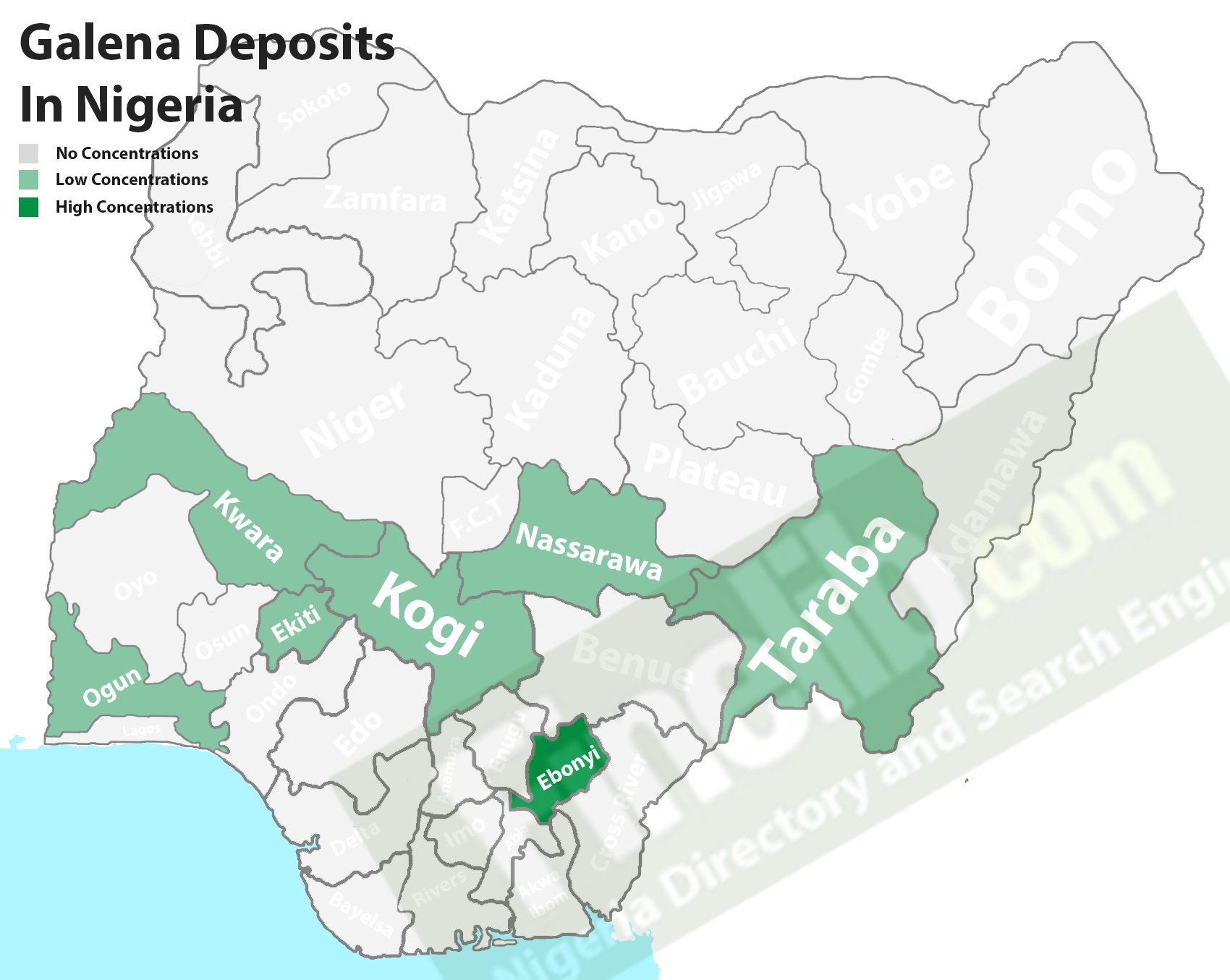 Physical properties of Galena

Galena is the principal source of lead (II) sulphide with a melting point of 1,114 °C and a boiling point of 1,281 °C. It contains 86.6% of lead.
It is sulphide mineral and the most abundant of the group; it has a shiny dark silvery or dull greyish colour and its crystallization is usually in the octahedral forms which take place in the cubic crystal system.
Galena is mostly found in association with other minerals like fluorite, sphalerite, and calcite.
It is commonly deposited in igneous and metamorphic rocks in medium to low-temperature hydrothermal veins and in sedimentary rocks as breccia cement, veins, isolated grains, and limestone and dolostone replacements.
To get galena from these rocks, a process known as smelting is used, the rocks that contain galena are placed on fire and the ashes are collected as a lead.
Galena is a very vital ore for the electrical and electronic industries because of its principal constituents which are Lead and it is also because of this reason that it is mined in Nigeria, Africa, and other countries of the world.
Some other common names for galena
In most places, apart from the name 'galene', some other people have several other names that they call the mineral.
These other names include;
. Lead glance and
. Galenite.
Generally, galena is the Latin name for 'lead sulfide'
Different varieties of galena
Galena comes in many varieties and they include;
Argentiferous Galena
This variety of galena comes in silver colour. In the argentiferous galena, they are silver sulphosalts all of which are visible as tiny insertions.
U-Galena
The U-galena is a variety of galena, derived from uranium-lead isotope pb-206.
Auriferous Galena
The auriferous galena is usually gold. It can be regarded to be a mineral-bearing gold or having microscopic inclusions of gold.
Selenium galena
The selenium galena is a variety of galena, bearing selenium.
Bismuthiferous galena
This is the variety of galena that has an inclusion of bismuth, worth 16 weight percent.
Plumbeine galena
The plumbeine galena is quite identical to the blaubleierz galena. Initially, this variety of galena was believed to be galena of hexagonal polymorph. It pseudomorphs after pyromorphite.
Blaubleierz galena
This type of galena is almost identical to the plumbeine variety of galena. Blaubleierz is the oriented film of the galena on pyromorphite.
Gestrickter Bleiglanz
Gestrickter Bleiglanz can also be called 'Acicular Galena'. It also has a literal meaning 'knitted galena'.
Uses of Galena

It's the principal ore in the production of lead and also a significant ore for silver.
• Is mainly used in making lead-acid batteries.
• Is used as kohl (cosmetics).
• It's used as a semiconductor in wireless communication systems.
• Used as the crystal in crystal radio receivers
Where can you find galena across the globe?
The locations where galena can be found across the globe are numerous. This is because it is one of the most common minerals in the world.
Having said this, it is therefore important to note that the locations stated here are only but few.
In Germany, it can be found at Siegerland and as well the black forest. It is said that Germany has many beautiful species of galena.
In England, there are galena occurrences in Weardale and Alston Moore.
The United States has galena deposits across Oklahoma, Jasper co., Kansas, Joplin, Baxter Springs, Cherokee Co., Reynolds, Sweetwater Mine, and Ottawa Co.
Also, in Colorado, a wide variety of galena specimens can be found across Silverton, Ouray Co., Wurtsboro, Sullivan Co., Shullsburg, Layette Co., Wisconsin, Leadville, Lake Co., and the Coeur d'Alene district, Idaho.

History of galena
As said earlier, galena is a major source of Lead (pb). And, lead has been used at about 6500 BC during the time of ancient Egypt, the reign of Pharaoh.
During those days, lead was used to make glazes for their numerous potteries.
In America, it was recorded that galena history dated back to when they had a quest for Western exploitation.
In the year 1690, when a French man named Nicholas Perrot visited a lead mine operated by Indians on the river of Fever now called Galena rive, it was discovered that galena was already a trade from the French.
It was also in that same period that the French man, opposite the Dubque, Lowa site, on the eastern Mississippi River, established a post for trading.
A US army captain; John Shaw, in the year 1816, reported the mining of lead on the north of Galena, sideways the Fever River by Indians.
From his reports, the shipping of the first boatload of lead ore was done by Col. George Davenport down rivers Mississippi and Fever.
From that period till now, there have been reports of galena deposits across the globe. These deposits are basically in pits or clay-packed joints.
The current price of galena
The prices of galena change almost every day but at the present time, the mineral galena is sold at;
$0.23 Australian Dollar equals (AUD)
N60.48 Nigerian Naira
$0.16 United States Dollars.
Galena Mining Stock Key Figures
Market Cap (USD) 53.08 M Book Value per Share
Importers and exporters of galena mineral across the globe.
The top countries exporting galena across the globe include
. Mexico ($1.22B) 19%,
. Peru ($1.1B) 17%,
. The United States ($744M) 12%,
. Russia ($659M) 10% and
. Australia ($345M) 5.5%
Other countries importing galena include;
. Sweden (3.1 %)
. Turkey (2.9%)
. South Africa (2.3%)
. Belgium – Luxembourg (2.1%)
. Tajikistan (1.8%)
. Morocco (1.4%)
. Serbia (1.3%)
. Argentina (1.3%)
. Macedonia (1.3%)
. Iran (1.2%)
. North Korea (1.1%)
. Spain (1.0%)
. Ireland (0.85)


The top countries importing galena across the globe including;
. China ($1.87B) 30%,
. South Korea ($1.51B) 24%,
. Canada ($544M) 8.6%,
. Belgium-Luxembourg ($492M) 7.8% and
. Germany ($460M) 7.3%.
Apart from these top countries above, the percentage of import by other countries include;
. Kazakhstan (4.1%),
. Japan (4.0%),
. Italy (3.3%),
. Netherland (3.3%) and
. Bulgaria (1.6%).
How is galena formed?
Galena is usually formed after it has undergone precipitation. It 'precipitates' as a result of hot water in the earth getting trapped in cracks. The precipitated galena can be found entrenched in quartz.
Galena Alteration and Mining
Galena is one of those ores that weathers without difficulty. When a new galena surface is discovered, it can easily change to a dull black colour from the silver metallic sheen that it used to have.
When galena is buried in the soil, it easily weathers to other elements or to cerussite, or anglesite, etc. it weathers to other minerals used in mining. During mining and these minerals are found, they easily indicate the presence of galena beneath.
Galena Mining Machine
Galena mining plant: to get galena minerals from lead, the galena mining plant is used. The plant consists of machines like jaw crusher, impact crusher, as well as grinding machine.
Smelting of galena

Galena is a very easy ore to smelt. You can smelt galena by placing the rock containing galena on fire.
When the fire goes out, then you can recover lead from the galena ashes. Years ago, in Turkey, galena was been smelted as far back as 6500 BC.
The Romans at about 2000 years ago discovered little amounts of silver from refined lead.
During this period, Romans use lead to make a pipe for their indoor plumbing need. It therefore from the word 'plumbing' that the chemical symbol of lead 'pb' came from.
Bottom line
The amount of lead and silver in galena depends on the market value of the mineral. A ton of galena might have silver worth $7,292 and lead worth $1,720.
Galena in its regular form can be really harmful to the body system when touched.
Related Information: