Oil Palm Plantation And The Nigerian States That Produces It

Oil palm cultivation is originally from Western Africa which is located in a tropical area but currently grown throughout Africa, Asia, North America, and South America, currently, Nigeria palm oil production accounts for 7% of total global output.
In Nigeria, the major oil palm producing states include:Enugu, Imo, Ondo, Edo, Cross River, Delta, Akwa Ibom, Ekiti, Bayelsa, Rivers, Anambra, Oyo, Abia, Edo and Ogun State.
Oil palm has a botanical name of Elaeis guineensis. Oil palms grow well in tropical areas like Nigeria with so many oil palm plantations, but can still grow where there is an abundance of heat and rainfall.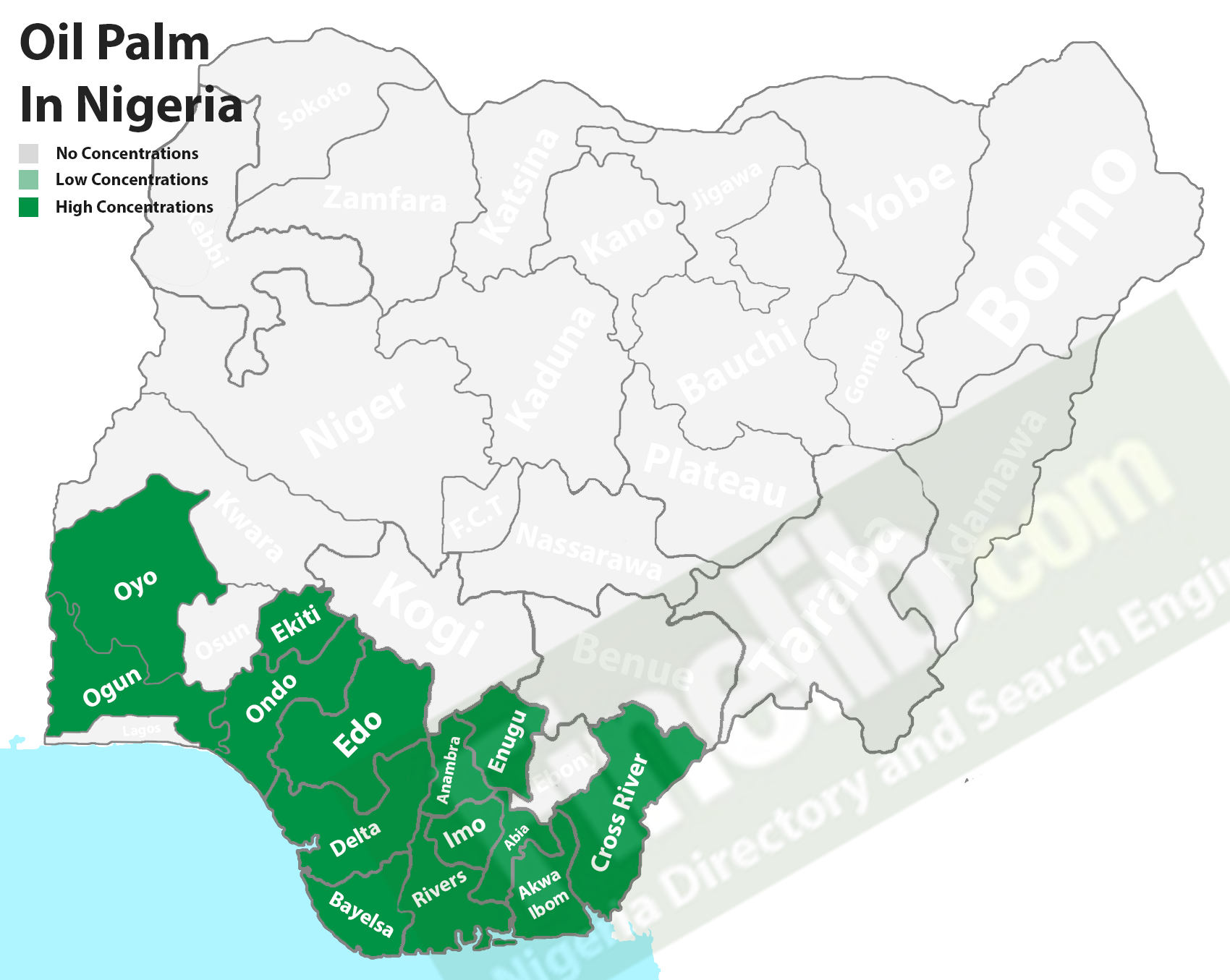 Oil palm is a perennial crop which grows in abundance in tropical areas; it bears a fruit known as palm fruit which is the fleshy parts of the fruits covering the kernel.
It has numerous benefits as almost all the parts can be used in various applications, but its cultivation takes quite a lot of hard-work, dedication, and resources.
After planting the oil palm, it takes about 3-4 years before it grows to maturity, which literally means that you have to wait for that long without gaining anything in reward irrespective of your time and resources which range from clearing of farmland, paying labourers, buying of fertilizers, seedlings and more but it's very rewarding at the end.
To grow oil palm in Nigeria and in any other tropical areas of Africa and the world, it is necessary to have a basic knowledge of what you are going into as that will effectively help in making the plant grow well and produce fruits as much as possible and at the right time without delay.
The cultivation of oil palm takes several planting and replanting;
After that, it is transplanted into small plastic conditioners, where it is allowed to stay for 4 to 5 months, at this stage the seed develops a new leaf every month and when a bifid leaf is noticed, then know it is ready to be transplanted again but now into the nursery.
The seedling is allowed to stay for about 1 year in the nursery and then planted in the palm groove when it noticeably has about 15 green leaves; at the palm grove, the seed/plant lives the rest of its life and grows into maturity as well.
The palm fruit contains oil which is processed when ripe into Palm oil (edible vegetable oil) and the chaff (the palm fruit flesh) used to sustain fire, the kernel is also processed into palm kernel oil which is also edible and can be used for different applications like in the making of soap, especially bar soaps used in washing locally in Nigeria and some African countries.
The kernel cake gotten from kernel processing is used as a feed for dairy cattle because of its high-protein content.
The kernel cake can also be used to generate electricity by burning it in boilers.
Oil palm products have numerous uses, it can be used as a cleaning agent, in baked goods, cosmetics, confectionery, shampoo, toothpaste, and washing detergents.
Oil palm generally can be used for different applications and is highly lucrative.
Related Information: