Reward for Excellence and Scholarship Competition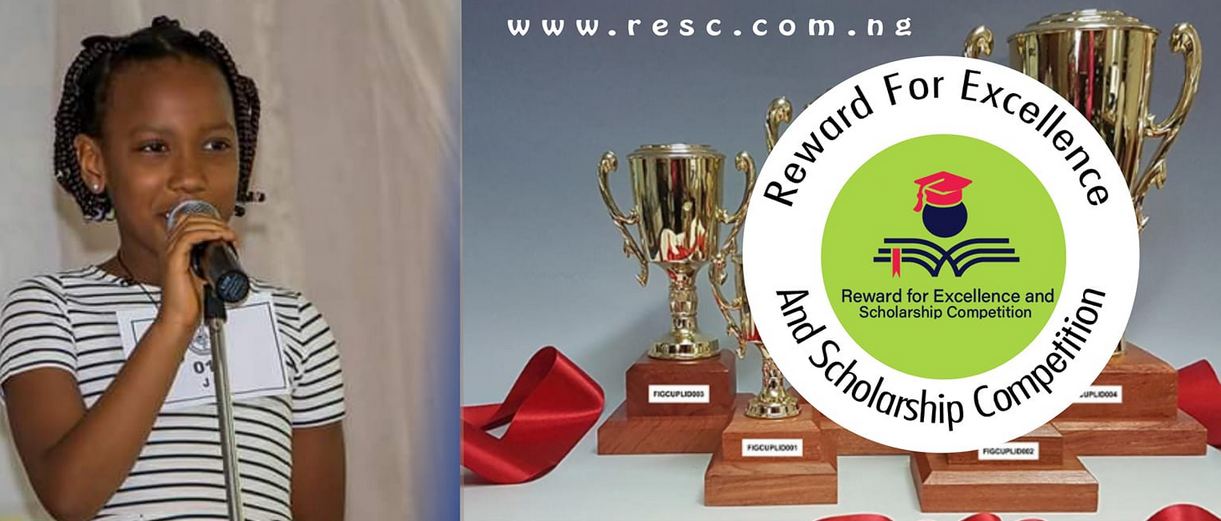 The Reward for Excellence and Scholarship Competition is a competitive platform for stimulating the minds of scholars. The initiative is run by SMART Career Agency and it normally holds within the month of August every year.
Their mission is to raise global stars with excellence, competence, and character, through various training, capacity development, and competitions.
Reward for Excellence and Scholarship competition has 4 stages:
The screening stage: This includes series of word puzzle for students of both junior and senior category.
The spelling bee stage: At this stage, children learn how to recognize words and spell them correctly.
Quiz stage: Here participants are quizzed on national affairs and general knowledge.
Speech writing and poetry: Here winners for both the junior and senior categories are produced.
Some of our winners so far include:
Precious Nkulor (a nine (9) years old girl from New Generation International Schools, New Haven Extension Area, Enugu), Akiolu Adesina (a 13 years old from Spring of Life Private Secondary School, Enugu) and Benjamin Madu (Fifteen years old from Modern Idea College, ( M.I.C ) Abakpa Nike, Enugu).
The three won the 1st, 2nd, and 3rd positions respectively for both the Junior and senior categories (combined edition) in 2015.
Chinalu Success
Star prize winner of the 2016 Edition of the senior category. She used to struggle with an inferiority complex. After much preparation for our competition (which was her first-ever), she emerged as the winner. She mastered her potentials.
She participated in the Always Sanitary Pad Essay competition and was one of the winners who won ₦100,000-naira scholarship package.
She participated in the Nigerian Spelling Competition, qualified from the state level to represent her state at the regional level where she bowed out gallantly.
Miss Neta Nnabuenyi
1st runner up at the junior category level of the RESC competition during the 2016 Edition(RES Competition is the first-ever competition she has ever attended).
In 2017, she participated in the Nigerian spelling bee competition. She scaled through the state level but dropped out at the regional level.
In 2018, she participated and won in the state level, the regional level, and emerged the overall winner of the 2018 Nigerian Spelling Competition, Junior Category. She represented Nigeria in the Africa Spelling Bee Competition at Kenya, in November 2018. She, alongside another Nigerian Representative in the Junior Category won the first prize.
At the Africa Spelling Bee Competition Stage, she was offered a 50% scholarship to attend one of the 100 best World Class Universities, MONASH UNIVERSITY, South Africa.
Benefits of Participating as Students, Schools, or Sponsors
Scholars get:
Quick thinking students
Spirit of Sportsmanship
Better Academic Performance
Exposure to Competitive Development
Self-Awareness/Purpose Discovery
Reward for Excellence.
Schools get:
Visibility on National Academic Map
Motivation for students to learn better
Positive exposure of their students to performing better in other local and International Competitions
Reward for their teachers and schools etc.
Parents get:
Improved parent-child communication
Networking with like-minded parents
Learning on Better Parenting Skills etc
Sponsors get:
Visibility
Recognition as a National Academic Supporter
Fulfillment of Corporate Social Responsibility (C S R) mandate
Goodwill accumulation
Access to host States and Federal Government
Entry into New market segments
Registration for 2021/2022 is ongoing. Register your students, children or sponsor some children now.
Abuja, Lagos, Enugu, Anambra, Delta, Oyo, Plateau, Kogi, Venue, etc are amongst the 20 states to host us this year. So, what are you waiting for, registration is ongoing. Visit www.resc.com.ng.
The event is not free, it requires a registration fee of ₦3,500.
When & Location
Date:
07/08/2021 12:00 AM to 31/08/2021 12:00 AM
Contact
Event Organiser:
SMART Career Agency
Address:
The Flagship Plaza, Opposite ICPC Office, #56 Ezilo Street, along Brown and Brown Road, Independence Layout, Enugu
Related Events: