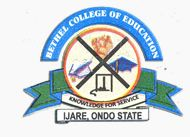 Bethel College of Education, Ikere Road Ijare, Ondo State

0803 470 4807, 0806 736 7721, 0803 828 8660
Bethel College of Education is one of the fastest growing private colleges of education in Nigeria.


1 Oreseun/Ajagboto Link Road, Ijare, Ondo State Nigeria

0906 153 6179, 0906 157 5240
Eagles Technical College is a private technical high school located in Ijare Ondo state offering technical courses like block laying and concreting, electrical works and repairs, fabrication and welding and other related discipline.


No 10 Odo-Eshi Street, Ijare, Ondo State Nigeria

0813 795 2056, 0806 003 3119
Bolamos Educational Services is a computer company that deals on offering computer services such as stationery stores, internet services, typing, printing and other related services.


No 35B Owode Quaters, Ijare, Ondo State Nigeria

0803 617 5610
Jadetom Global Services Ltd are basically into offering a wide range of services such as building construction, hotel reservation, real estate agent, exterior and interior decoration and general merchant.


No. 36 Agbasa off Ikere Road, Ijare, Ondo State Nigeria

0802 073 5121
Queens Hotel & Suites is a home away from home situated in Ijare, Ondo state with well equipped facilities providing a place of comfort and hospitality.


Success Compass Schools, Ijare, Ondo State Nigeria
Success Compass Schools is a government approved private school situated in Ijare Ondo state providing a conducive learning environment for quality education.